Personal and Business Storage Buildings
Get the Best Fitting Storage Solutions for you!
The Best Personal and Business Storage Units in Loveland
Whether you're waiting to move into a new home, office space, or just need to move out all the clutter, Foothills Self-Storage has the storage unit for you as well as accommodations that make accessing and utilizing your unit a breeze!
Foothills Self-Storage Will Help You Store:
Seasonable equipment, tools, outdoor furniture

Antiques, collectibles

Extra clothing, furniture, electronics

Office equipment, file boxes, office decor
GET THE BEST BUSINESS AND PERSONAL STORAGE ACCOMMODATIONS IN LOVELAND
When it comes to your home or business, it's easy for storage space to get short, especially if you're going through some kind of transition period. At Foothills Self Storage in Loveland, we provide a convenient location for business owners or people in transition to leave their things and come back for them practically anytime. Whether you'll be gone for years or you'll be stopping in regularly for supplies, we have storage units to keep your things safe.
With Foothills Self Storage, you get access to a wide range of units, and units that offer more space than our competitors. From closet-sized options to options that will fit the typical furniture and items of a three-bedroom household, our units provide for everything from the junk in your closet to all the equipment of a landscaping company, drop-shipping business, or food truck. On top of that, our location is nearly impossible to beat in Northern Colorado, whether your needs are for business or pleasure, being by both local business hubs and a wide range of recreational areas.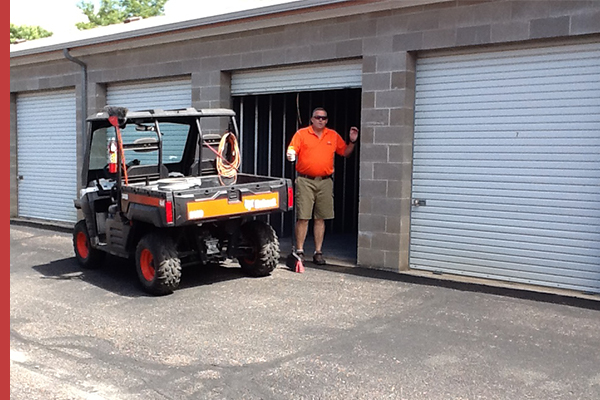 Accommodations of our Storage Units
At Foothills Self Storage, we try to see beyond the basics of storage in order to maximize our services for our customers. We want your storage unit and location to be an asset to you or your business, which is why we have a number of accommodations that should make your life easier, whether you're simply stashing some recreational gear or you're depending on us for business storage. Here are just a few of them:
Easy access to your storage off of Highway 287, so you don't have to go to far out of the way and take time out of your workday or vacation

Regular access to your storage unit during business hours

Units that are large enough for you to move around in and shuffle your supplies as needed

Propane tank filling for any business or recreational needs
USES FOR COMMERCIAL STORAGE
If you are a business owner, then you know that storage is a necessity for any business! You're probably looking for a place to store your extra inventory, materials, business records, and more that is secure and protected from the elements. At Foothills Self Storage, we offer affordable and reliable business storage.
We offer a variety of business storage solutions, so you can find the perfect solution for your business.  Our business storage units come in a variety of sizes that range from 5x5x10ft to 12x 30x 10ft, so you can store as much or as little as you need.  To see what options are currently available or to learn about the specials, contact us today!
Commercial storage can be used for many different purposes, and we have a variety of options to work with each of those. The most common reasons for using this type of storage are storing extra inventory, office furniture, files and documents, and more!
CHOOSE THE BEST FOR PERSONAL AND BUSINESS STORAGE IN NORTHERN COLORADO
If you need a reliable storage facility you can count on, then contact us for more details and to check out our affordable self-storage prices. We are located in N. Loveland, just off of 287. We have a large, secure facility for all your storage needs.
Come in today
to take a closer look at one of our units or
reserve yours today!